The Minsk agreement a year later
That year has passed from the moment when the leaders of channel four after a grueling negotiations agreed to a set of measures to settle the Ukraine crisis and signed the second Minsk agreement. A year has passed, but during that time, except for some progress in the implementation of the agreements, Ukraine and the Donbas have remained stagnate in one place.
The only thing that probably can be considered a really big breakthrough – the end of full-scale hostilities and the massive loss of life that is certainly good, but when you consider how many actually had to be done, it is only a drop in the ocean.
Both parties exchanged mutual accusations of non-compliance, and continue to do it, I people looking for this theme, it might give a false impression of the truth of what is happening, because how to distinguish who is lying and who is telling the truth. However, given that the Donbass for the last time
systematically took
heavy artillery from the contact line, and that the Donbass was doing everything to organize the exchange of prisoners, we can conclude that the region is more likely to a really wants peace and tries to follow the established arrangements.
But the desire of one side a little, so it turns out that almost nothing happens. Now here, for example, Kiev in every possible way
hinders the exchange of prisoners of war
, and this is a direct violation of the sixth paragraph of the Minsk agreements. In reality, the exchange of prisoners is very slow, in small groups, and then, after disputes about who is redeemable and who is not, while he should happen by the formula "all for all".
And so, in fact, constantly. Some activities for visibility on the part of Ukraine flavored with a good portion of accusations against the rebels and/or Russia and Ukraine is obtained for super-profit. And unnecessary for them the Minsk agreements are not moving and they look like neat, not my fault. And, accordingly, it is possible and to ask for loans, and other assistance from the West, but still is an excuse for almost all problems.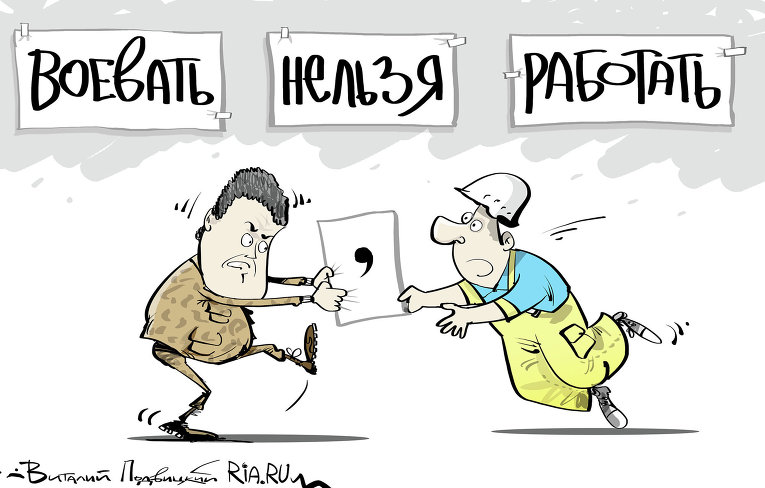 It may last indefinitely at that level if, of course, a new force will not inflame the war that it was realistic. For a speedy, successful and most importantly the full implementation of the Minsk agreements, alas, we can only hope.