Nuland & Jaresko: Putin's Backers Are Way Too Smart For US
Ukraine, Neocons And Neonazis
Submitted by Tyler Durden
03/06/2015
Submitted by Raul Ilargi Meijer via The Automatic Earth blog
,
See, by now you would think that anyone who reads that all 31 US banks that were tested have passed the Fed stress test, knows this says absolutely nothing about the banks, but all the more about the test. You would think. But the media try – and succeed – to cram it down the public's throat as a success story anyway.
There's simply a very strong feeling, if not conviction, in the western media, that they've won the propaganda battle. They have no adversary other than the blogosphere, and since they reach a thousand times more people, who are to a (wo)man more complacent and gullible than any of your typical interwebs readers, Bob's their uncle.
But come on guys, are we really going to let this happen without raising our voices or even batting as much as one of our eyes? We're drowning in nonsense here, and we're prepared to just die without even trying to swim?
Look, I find real fun in reading that the
UK House of Lords issues a report that claims 150,000 jobs will be created by 2050 in the 'drone industry
', and at the same time clamors for a 'personal drone registry'. I mean, these guys are way too old to even know how to spell 'drone'. But that's just mindless 'journalism', and to a point innocent.
What is not is the two portraits of US girl power in Ukraine from the Guardian and Bloomberg that appeared over the past two days. That's not innocent, that's vile and bastardly lies. Victoria Nuland and Natalie Jaresko should not be praised by the western media, they should be taken apart bone by bone, because the roles they play are far too shady to stand up to our alleged democratic principles.
Bloomberg is, well, Bloomberg, but why the Guardian gets involved in this sort of apologetic feel-good 'reporting' is beyond me. Other than: how much does it pay?! I mean, who needs a brain when you have a keyboard?
Nuland and her hubby Robert Kagan
– and don't you even try and make me picture them in bed together plotting fresh invasions – are the flashing neon signs for everything neocon in America today.

She has – more or less voluntarily – admitted to staging the year-old Kiev coup and installing US puppet Yatsenyuk as Ukraine PM, as well as pushing $5 billion in US taxpayer funds to various Ukraine 'charities' to make it happen.

And then the Guardian has the gall to present her as your average American girl next door? Nuland creates wars, and misery, and bloodshed, and she does so fully convinced she's serving some deity's purpose. She should have long since been removed from any and all offices, but she's still in place, which paints a damning enough picture of US politics all by itself.

Yeah, sure, let's make Victoria look normal, right, Guardian?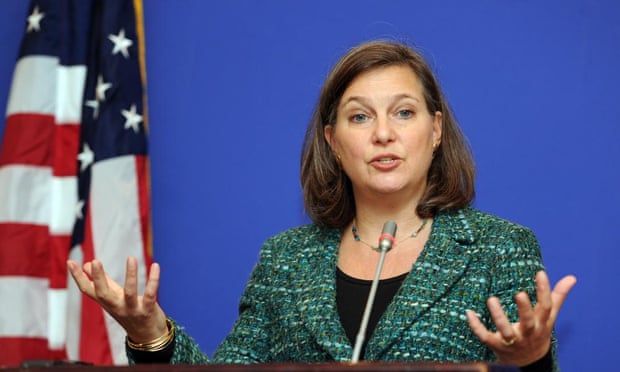 Victoria Nuland: Russia's Actions In Ukraine Conflict An 'Invasion'
Assistant secretary of state
Victoria Nuland has admitted the US considers Russia's
actions in Ukraine "an invasion", in what may be the first time a senior American official has used the term to describe a conflict that has killed more than 6,000 people. Speaking before the House committee on foreign affairs, Nuland was asked by representative Brian Higgins about Russia's support of rebels in eastern Ukraine, through weapons, heavy armor, money and soldiers: "In practical terms does that constitute an invasion?"
Nuland at first replied that "we have made clear that Russia is responsible for fielding this war," until pressed by Higgins to answer "yes or no" whether it constitutes an invasion. "We have used that word in the past, yes," Nuland said, apparently marking the first time a senior official has allowed the term in reference to Russia's interference in eastern Ukraine, and not simply its continued occupation of the Crimean peninsula.
Obama administration officials across departments have strenuously avoided calling the conflict an invasion for months, instead performing verbal contortions to describe an "incursion", "violation of territorial sovereignty" and an "escalation of aggression". In November Vice-President Joe Biden, who has acted as one of Obama's primary liaisons with the Ukrainian president, Petro Poroshenko, rapidly corrected himself after breaking from the White House's careful language on CNN, saying "When the Russians invaded – crossed the border – into Ukraine, it was, 'My god. It's over.'"
But that's nothing compared to today's Bloomberg portrait of Natalie Jaresko, the US stooge installed late last year to run Ukraine's economy into the ground as finance minister. This is something else altogether. The first thing that comes to mind is: 'have you no shame?', but then you realize it's Bloomberg. The subtitle is: Why Natalie Jaresko Is As Important As The Country's Generals. I kid you not. In days of old, the CIA would have had to look through the Yellow Pages, but this time around I'm pretty sure they used Facebook to find Americans with Ukie blood ties. They then pumped her full of dollars, 100s of millions of them, and then she was ready to go. Mind you, she was picked way ahead of the regime change a year ago. The whole thing was planned well in advance. 10 years or so in advance.
C'mon, the first paragraph alone should be profoundly sickening to any functioning neuron:
The American Woman Who Stands Between Putin and Ukraine
Ukraine is a nation at war, which is why Natalie Jaresko, the minister of finance, has traveled 20 miles from Kiev to the town of Irpin, a settlement of 40,000 on the edge of a pine forest. She's here to visit a rearguard army hospital and to console convalescing veterans of recent battles against Russian forces and their proxies in the Ukrainian east. "Where did you serve?" she asks, moving slowly from room to room. "How were you wounded?" She may be from Chicago's West Side, but she speaks Ukrainian fluently, and if anyone notices her American accent, no one seems to care. Jaresko tells the soldiers they're heroes, the country's national accountant handling a job for generals. The crisis has thrust people into unlikely roles.
Three months ago, Jaresko, 49, left the private equity firm that she co-founded in Ukraine in 2006 to join the government of Petro Poroshenko. At the time, Jaresko didn't even have Ukrainian citizenship. Now, as the country's top economic official, she's Ukraine's liaison to the World Bank, the IMF, and the European Bank for Reconstruction and Development. Tax reform is hers. So is the treasury.
The country's bankrupt. So much so that no amount of IMF funding can change that. Besides, a substantial amount of whatever funding will be made available, will need to go to what is still called an army, lest Kiev loses out completely against the rebels it has tried to annihilate for a year now
. But it can get worse, just read this bit:
[..].. whether Ukraine succeeds as an independent democratic nation arguably depends as much on the efforts of Jaresko and her colleagues as it does on the military battles. Together they must rebuild a shattered economy and restore international confidence in Ukraine while confronting the corruption and cronyism that have haunted the country since the fall of communism. And they must somehow do so as state-owned banks teeter on the brink of collapse, the national treasury counts its last foreign notes, and inflation is at 28% and rising. The longer the war carries on and reforms are delayed, the more hostile Ukrainians will become to their government and its Western supporters, leaving the country even more vulnerable to Vladimir Putin.
Uh-uh. The people will turn against the US and EU, but they don't really know what's good for them do they? Even if they hate the heebees out of us, we must still protect them from Vlad the Impaler. Sorry, it's for your own good…
Jaresko, 5 feet 6 inches tall, wears her dark hair at chin length. As she continues through the Irpin hospital, she's solemn, respectful. More soldiers receive her, cramped two and three to closetlike rooms, jammed into beds sized for children. They discuss their lack of firepower in the field: Why don't we have modern weapons? How does the enemy know where we are all the time? Jaresko listens. She knows better than any general that Ukraine doesn't have the funds to better arm itself. She asks the soldiers what they plan to do once they've recovered.To a man, they say they'll return to the front lines.
Ex-f##king-cuse me, but since I know anywhere between half a million to over a full million men have fled the country just to escape serving in the Kiev army, I'm wondering what lengths Bloomberg's Brett Forrest and his new-found Mother Teresa went through to find a hospital where defeated soldiers, to a man no less, claimed they'd go back if only they could. Who believes this shit? And who needs it to begin with?
Yada yada, Jaresko life story, Ellis Island, Chicago, yada yada, and then this:
In the mid-1990s, Ukraine endured hyperinflation of 10,000%. A few years later came the shock waves of Russia's financial crisis. The Ukrainian economy showed its first signs of growth only in 2000, after almost a decade of decline. Then, in 2004, came the Orange Revolution. While the country entered a new period of uncertainty, international institutional investors began to arrive. Two years later, Jaresko and three partners opened investment management firm Horizon Capital. It managed the Western NIS Enterprise Fund and eventually raised two more. When she left last December, it had roughly $600 million of Ukrainian investments under management.
I don't think that's Ukrainian investments, I'm thinking it's western investments in Ukraine. Jaresko was set up very well, financially. From the $5 billion VIctoria Nuland admitted the US had spent to change the regime. She's a well paid stooge. You do have to wonder what's left of Jaresko's riches now that Kiev's as broke as a wino in the dead of winter.
Last year's regime change, Jaresko says, represented a real turning point—a chance to finally end kleptocratic rule. "Anyone close to Ukraine understood that this was an incredible moment to take Ukraine forward in a way that it hadn't gone quickly enough over the past 22 years," she says. "That there had been a radical change in civil society, and that civil society's expectations could no longer be put on the back burner by anyone."
'Forward' in this case apparently means into war and bankruptcy, that's all that's been accomplished. Yeah, sure, Nuland's neocons understood that 'this was an incredible moment to take Ukraine forward in a way that it hadn't gone quickly enough over the past 22 years..' Just read that sentence again knowing it comes from that woman, and knowing she's helped bring down the entire nation. It gives it a whole other meaning.
Yada yada, headhunting firm happenstanced upon an American CEO in Kiev (there's so many of them it's hard to keep track ;-))."They played hard on my patriotism.." "I sometimes wonder what my father would think.." Please hand me a bucket!
Then some to and fro about how the state is too weak to fight Russia – which they're not, they're fighting their own citizens -, and paragraphs of financial blubber and outright lies, culminating in:
…economics minister Abromavicius saying his office projects a 5.5% reduction in the economy this year. That doesn't take into account Putin's future actions in the east. We work under the assumption that there will be peace very soon, he says. This conflict is misguided. The Russian leadership is misguided about Ukraine in general. They just don't understand Ukraine. This country wants to be left alone. This country wants to make its own decisions.
'This country wants to make its own decisions?' Well, you should have made sure you didn't go broke then. Because from here on in, you'll never again make any decision you can call your own, and that includes choosing the color of toilet paper in your government offices. The US will do that for you. That's why Jaresko is where she is. Ukraine had a lot more freedom before Maidan.
As the young government's leaders and supporters tirelessly point out, the war with Russia has so far been contained to less than 10% of Ukraine's territory.
First, there is no war with Russia, only with Ukrainian citizens. And if it's less than 10% of the territory, that's only because the rebels have no claim on anything but their own land. They don't want Kiev, they just want Kiev to leave them alone and stop killing their women and children. But if it won't, the rebels will take more territory, just so Kiev can't use it to attack them anymore.
But it must be convenient to be able to hang an entire country's demise on one person, no matter what happens. I just read that US House Speaker Boehner sent a letter to Obama claiming that Russia's actions in Ukraine are a 'grotesque violation of international law'. If that is so, what does that say about America's actions in Ukraine?
The US must withdraw Nuland and Jaresko from their respective positions starting yesterday morning. But they won't, they have achieved exactly what they were aiming for: a nation so shattered it's dependent on US and IMF money just to survive, just to pay for the ink needed to draw its borders on a map.
From here on, it's just a matter of waiting for Putin to get so sick of all this he decides he can't let Kiev go down any further, lest all that's left is neonazis and neocons, and they start aiming their US and/or UAE supplied 'lethal defensive' weapons eastward. And then they'll get what they've wanted all along, Yatsenyuk and Poroshenko and Nuland and Jaresko: They'll get War. But it won't come the way they envisioned it. Putin's way too smart for that.
Anyway, what a shameless depiction of Ukraine we get here. It's all-out propaganda, no prisoners taken. I'm getting tired of getting angry about it, but someone has to.
More:
Victoria Nuland and Robert Kagan – partners in world destruction
A background article on marriage partners Robert Kagan – influential neo-conservative, Senior Fellow at Brookings Institute, member of Project for a New American Century – and Victoria Nuland – Assistant Secretary of State and international troublemaker. Through their marriage and partnership, they have created crisis, pain, and death in the world.
No family in the history of the United States, with the possible exception of John Foster and Allen Dulles, has had more blood on its hands than have the Kagans. And it is this family that is today helping to ratchet up the Cold War on the streets of Kyiv.
Since this article was written, more has come to light about Nuland's involvement in Ukraine, her war-hyping work in Europe, and now her involvement in an aborted coup in Macedonia. Also, it is no surprise that Brookings Institution has produced a report advocating lethal military aid to Ukraine [1]. Thank you to Wayne Madsen for this probing article.
From Strategic Culture Foundation
By Wayne Madsen, December 12, 2013______________
During America's many overseas wars, volunteer women of the United Services Organization (USO), a group designed to boost the morale of U.S. troops in combat zones, served coffee and doughnuts to American soldiers. These women, called "doughnut dollies," were on the scene in the South Pacific, Korea, and Vietnam.
The U.S. Assistant Secretary of State for European and Eurasian Affairs, Victoria Nuland, has reprised the role of the "Doughnut Dolly" by distributing snacks to anti-government protesters on Maidan square in central Kyiv. Armed with a white plastic shopping bag full of biscuits, Nuland was trying to boost the morale of the protesters in what has become a virtual proxy war between the United States and Russia. Control of Ukraine by NATO has long been a gleam in the eye of American neo-conservative war hawks like Arizona Republican Senator John McCain who followed Nuland by a day among the Maidan protesters.
Following the election of Barack Obama to the presidency in 2008, many Americans believed that the age of the neo-cons was over. Neo-cons, nostalgic for the Cold War, put their own imprimatur on the George W. Bush presidency by having it adopt all the principles of neocon policy dogma, most notably a document known as the Project for the New American Century or "PNAC." With fresh policy guidance from within the neo-con policymaking lairs of the American Enterprise Institute, Heritage Foundation, Hudson Institute, and the Jewish Institute for National Security Affairs, neocons like Dick Cheney, Donald Rumsfeld, Richard Perle, Douglas Feith, Scooter Libby, and Robert Kagan set about to plunge the United States into senseless wars in Iraq, Afghanistan, and beyond in a never-ending "global war on terrorism."
Kagan, although not as well-known as the others, continues to steer America into foreign policy fiascos such as U.S. involvement in the domestic affairs of Ukraine. Kagan has an ace-in-the-hole in stirring up tensions in Ukraine because his wife is none other than Victoria Nuland…
Nuland's career has been one of ensuring that the underpinnings of the Cold War never completely died out in Europe. Her State Department career began as the chief of staff to President Bill Clinton's Deputy Secretary of State and close friend, Strobe Talbott. It was under Talbott that Nuland helped completely fracture Yugoslavia and ensured that the U.S. slanted against the interests of Russia's ally, Serbia. After helping to lord over the final end of Yugoslavia, Nuland moved to develop U.S. foreign policy for the former Soviet Union. Ukraine landed right in the middle of Nuland's target scope.
After the Clinton administration, Nuland went on to become Vice President Dick Cheney's principal foreign policy adviser. Impressed with her anti-Russian and neo-con stance, Cheney recommended Nuland to be the U.S. ambassador to NATO. After the Bush administration, Nuland ensured that the neo-con apparatchiks continued to have a say in the new president's foreign policy. Nuland was appointed as the special envoy for Conventional Armed Forces in Europe in a further bid to confront Russia. Secretary of State Hillary Clinton appointed Nuland as her press spokesman after Philip J. Crowley was forced to resign after he publicly complained about the military prison treatment of Army Private Bradley Manning, arrested and jailed for releasing classified State Department cables to WikiLeaks. Nuland, unlike Crowley, would ensure that neo-con swagger would dominate Mrs. Clinton's State Department. That swagger became abundantly clear in the CIA's coup against President Manuel Zelaya in Honduras, the U.S.-led overthrow of Muammar Qaddafi in Libya, and U.S. support for uprisings in Egypt and Tunisia.
Nuland would survive the controversy over the October 2012 attack on the U.S. diplomatic mission/CIA facility in Benghazi, Libya. Initially, many conservative Republicans criticized Nuland for her role in providing ambassador to the UN Susan Rice with "talking points" explaining away the failure of the U.S. to protect the compound from an attack that killed U.S. ambassador Christopher Stevens and three other U.S. personnel. All it took was a tap on the shoulder from Nuland's husband Kagan and his influential friends in the neo-con hierarchy for the criticism of his wife to stop. And stop it did as Nuland was confirmed, without Republican opposition, to be the new Assistant Secretary of State for European and Eurasian Affairs, a portfolio that gave her a clear mandate to interfere in the domestic policies of Ukraine and other countries, including Russia itself.
Kagan began laying the groundwork for his wife's continued presence in a Democratic administration when, in 2007, he switched sides from the Republicans and aligned with the Democrats. This was in the waning days of the Bush administration and, true to form, neo-cons, who politically and family-wise hail from Trotskyite chameleons, saw the opportunity to continue their influence over U.S. foreign policy.
With the election of Obama in 2008, Kagan was able to maintain a PNAC presence, through his wife, inside the State Department. Kagan, a co-founder of PNAC, monitors his wife's activities from his perch at the influential Brookings Institution. And it was no surprise that McCain followed Nuland to Maidan Square. Kagan was one of McCain's top foreign policy advisers in the 2008 campaign, even though he publicly switched to the Democrats the year before. Kagan ensured that he kept a foot in both parties. Although McCain was defeated by Obama in 2008, Kagan's influence was preserved when his wife became a top foreign policy adviser to Obama. The root of this control by neo-cons of the two major U.S. political parties is the powerful Israel Lobby and is the reason why in excess of 95 percent of neo-cons are also committed Zionists.
Kagan's writings and pronouncements from Brookings have had a common thread: anti-Vladimir Putin rhetoric and a strong desire to see Ukraine and Georgia in NATO, Bashar al Assad falling in Syria and thus eliminating a Russian ally, no further expansion of Shanghai Cooperation Organization membership and the eventual collapse of the counter-NATO organization, and the destabilization of Russia's southern border region by radical Salafists and Wahhabists funded by Saudi Arabia and Qatar. Qatar, not coincidentally, hosts a Brookings Institution office that advises the Qatari government.
But dominance of U.S. foreign policy does not end with Nuland and her husband. Kagan's brother, Fred Kagan, is another neo-con foreign policy launderer. Residing at the American Enterprise Institute, Fred Kagan was an "anti-corruption" adviser to General David Petraeus. Kagan held this job even as Petraeus was engaged in an extra-marital affair, which he corruptly covered up. Fred Kagan's wife is Kimberly Kagan. She has been involved in helping to formulate disastrous U.S. policies for the military occupations of Iraq and Afghanistan. Fred and Kimberly have also worked on U.S. covert operations to overthrow the government of Iran. No family in the history of the United States, with the possible exception of John Foster and Allen Dulles, has had more blood on its hands than have the Kagans. And it is this family that is today helping to ratchet up the Cold War on the streets of Kyiv.
Victoria Nuland is, indeed, the proper "Doughnut Dolly" for the paid George Soros, U.S. Agency for International Development, National Endowment for Democracy, and Freedom House provocateurs on Maidan Square. Political prostitutes representing so many causes, from nationalistic Ukrainian fascists to pro-EU globalists, require a symbol. There is no better symbol for the foreign-made "Orange Revolution II" than the biscuit-distributing Victoria Nuland. Her unleavened biscuits have found the hungry mouths of America's "Three Stooges" of ex-boxer and political opportunist VitalyKlitschko, globalist Arseny Yatsenyuk, and neo-Nazi Oleg Tyagnibok.
[1]
http://www.brookings.edu/research/reports/2015/02/ukraine-independence-russian-aggression
http://www.strategic-culture.org/news/2013/12/18/meet-neocon-doughnut-dolly-victoria-nuland.html